Neil Jones (January 2005)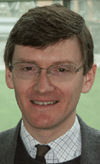 Dr. Neil Jones is College Librarian, Director of Studies and University Senior Lecturer in Law at Magdalene College, Cambridge University. Dr. Jones first read law at Cambridge as an undergraduate at Peterhouse, and went on to win the Chancellor's Medal for English Law as an LL.M. student. Dr. Jones held a William Senior Research Studentship at Clare College while completing his Ph.D., and after receiving his doctorate began teaching at Magdalene in 1994. A specialist in early modern English legal history, particularly that of equity and the feudal revenue, Dr. Jones has won both the Yorke Prize and the David Yale Prize for his work in the field. In addition to his own research, Dr. Jones is Editor of the Journal of Legal History and a member of the Council of the Selden Society. The Legal History Project interviewed Dr. Jones in January 2005.


You have focused much of your work on early modern English property law subjects such as uses and trusts. Why is this area of law worthy of modern attention?

I have been concerned in particular with the law concerning uses and trusts in the period after the Statute of Uses 1536 and the 1660s. This has long been "one of the dark places of legal history" and as such warrants attention. The summaries of the history of trusts in the introductions to most modern English textbooks on equity still rely on now-outdated assumptions based upon the very shaky evidence of the few reports available in print. Working from the record of the Court of Chancery, it has proved possible to substantially improve our understanding of the developments in this area.

In U.S. law schools, medieval and early modern property law is generally given attention only to explain modern topics such as the rule against perpetuities. What consideration is given to early property law in English legal education?

Legal education in England is largely a matter of first degrees, though, of course, there are also LL.M. programmes. In first degrees attention to medieval and early modern property law is very limited; probably almost entirely restricted to specialist legal history courses.

Do you feel that English legal education today gives sufficient attention to English legal history generally? What about to the legal history of other lands, particularly the Continent?

Arguments here work both ways. The study of legal history can be, as Maitland put it, "the most enthralling of all studies," and there is no doubt that understanding of the peculiarities of the modern law in many areas is improved by an understanding of the history. On the other hand, for many students legal history may well be uncongenial, and I take the view that it is preferable to have legal history courses populated by those who have an interest in the subject, rather than made compulsory. The challenge is then to teach the courses in such a way that increasing numbers join them under their own steam!

Your education and work have been centered at Cambridge University and, more recently, Cambridge's Magdalene College. Has the teaching of legal history at Cambridge changed much since you first read law there as an undergraduate?

At the undergraduate level, no, with the exception of the introduction of a third-year half-paper in early modern English legal history in the mid-1990s. At undergraduate level teaching is in two parts: lectures are arranged by the University, and small-group teaching (known as "supervisions") is arranged by each student's College. Students taking the legal history full-paper will receive two one-hour lectures each week during term, and a one-hour supervision in a group of between two and five every other week during term. Reading is assigned for each supervision, and essays are set. There is an exam on the paper at the end of three terms (one year) of study. In the half-paper there are no supervisions, and one lecture each week. In the LL.M. programme teaching is by seminar, a two-hour seminar being held each week.

What benefits does a study of legal history provide to would-be lawyers?

There should be no illusions that studying legal history is necessary to work the modern legal machine with effectiveness: would-be lawyers can become entirely proficient in applying the rules without an understanding of their history. But studying legal history allows would-be lawyers to stand outside the law and examine legal change over a broad time-scale. In so doing they can consider the sources of pressure for change, and the inter-relationship between pressure for change and the intellectual life of the law. They also have the chance to gain a deeper understanding of the relationship between legal concepts, and the ways in which they interact. And apart from legal study they learn to apply historical method to legal materials, and gain an added dimension to their intellectual development. And it's just possible that they might enjoy the chance to step "outside the machine" and see the law on a completely different scale to the minutiae of modern legal subjects.

What skills are required to be a specialist today in English legal history, and has this skill set changed over time?

This is difficult to answer, as the skills required will vary considerably depending upon the period of study, and the methodology adopted. For work in the medieval and early modern period an understanding of Latin and law French, together with the ability to read manuscripts, are clearly important. Such skills are likely to be less important to those working in later periods. Whether it is necessary to have had a legal training is a vexed question: Maitland thought it was, but historians and lawyers may have much to teach each other.

Do you believe that adequate resources are being made available to scholars for research into English legal history and to preserve the relevant documents and artifacts?

It is difficult to answer otherwise than in the negative: there is always scope for more expenditure. Though, expenditure apart, there is also the simple need to persuade able people to become legal historians – particularly difficult against the income which can be obtained by practising law.

The Journal of Legal History, for which you serve as Editor, was founded in 1980. Why was the Journal needed at that point in time, and what role does it play these days?

The Journal was founded while I was still at school, but in response, I'm sure, to an increase in interest in legal history and increasing work being done on it. The Journal is the only English publication exclusively devoted to legal history. It publishes articles in English on the sources and development of the common law, both in the British Isles and overseas, on the history of the laws of Ireland, Scotland, and Wales, and on Roman law and the European legal tradition. There is a section for shorter research notes, review-articles, and a wide-ranging section of reviews of recent literature.

What do you feel is the most promising and unexplored avenue of English legal history research today?

It's impossible to give a single answer to this: there is still a large amount of work to be done in a wide variety of fields.

On what legal history projects are you now working?

I'm still working on the history of trusts, conveyancing, and the feudal revenue, in the early modern period, which promises to be sufficient to keep me occupied for the rest of my life!


Prof. Jones was interviewed by Peter C. Hansen.





© Peter C. Hansen, The Legal History Project.