William B. Norman (March 2005)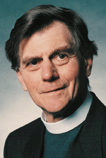 Canon William Beadon Norman is Preacher of Lincoln's Inn, one of the four Inns of Court which serve as the professional homes of England's barristers and are located in the heart of London. After army service during and after World War II, Canon Norman was educated at Cambridge and called to the Bar at Lincoln's Inn in 1950. After deciding against practice as a barrister, he studied theology at Ridley Hall in Cambridge, was ordained a deacon in 1952, and went on to serve in London, Yorkshire, Birmingham and, for over ten years, in Uganda. Now Canon Emeritus of Birmingham, Canon Norman not only serves at Lincoln's Inn, but also volunteers as the Commissary for the Anglican Church in the Democratic Republic of the Congo. The Legal History Project interviewed Canon Norman in February and March 2005.


The recorded history of Lincoln's Inn goes back to 1422, and the Inn certainly existed even before that time. How and when did Lincoln's Inn Chapel become part of the Inn?

There was certainly a chapel at Lincoln's Inn before the present one was built. No one knows the date of this earlier chapel. It was quite natural for an institution such as this to have a chapel. All the colleges of Oxford and Cambridge have their own chapels, except for a few of very recent foundation, and so do all the older schools and many modern ones.

Lincoln's Inn Chapel is a magnificent building, and is unusual for being built atop a set of exposed arches a story high. Why was the Chapel built in such a manner?

It seems that the original intention was to site three chambers underneath the chapel. When the Benchers decided not to do this, they left the space open and used the ground for burials. A number of graves are still there, many of them with inscribed stones, all of course laid flat.

Lincoln's Inn survived the Blitz in World War II essentially unscathed, unlike the other Inns of Court. In World War I, however, the Chapel was harmed in a Zeppelin attack. Can you describe this event, and has the damaged section been fully restored?

The bomb dropped by the Zeppelin fell four or five feet from the north side of the chapel between the two western windows. It did little damage to the wall, though a few traces of damage by stones or shrapnel can still be seen. It did, however, seriously damage all the windows of the chapel. I quote from a memorandum by R.F.Norton, a Bencher, in 1926: "At the end of the war the glass was as far as possible restored, but it was found impossible to restore the two western windows on the north side, but fragments therefrom have been inserted in the tracery lights of the eastern, north and south side windows. The window second from the east on the north side was however, by the skill of Messrs. C.E. Kempe & Co. recreated from fragments of the destroyed windows and has been re-instated as the third window from the east on the north side." The large west window was glazed with plain glass, as were the two western windows on both sides. That on the south side is gradually being filled with the arms of Treasurers. The west window was reglazed in 1959 at the cost of the family of Viscount Maugham (sometime Lord Chancellor) and his arms were inserted in the centre.

There was some damage to the glass from a flying bomb in 1944, but this was repaired in 1947. Otherwise, as you say, the chapel did not suffer in the Second World War.

John Donne is one of the most famous Preachers of Lincoln's Inn. While Donne is best known as a poet, he also studied law at Lincoln's Inn and made a living in law and politics for a time. His entry into the Church even seems to have been rather reluctant despite his great success as a clergyman. How did Donne come to be Preacher at Lincoln's Inn, and in what respects was his tenure notable?

John Donne was a student of the Inn, but this was common for men of his class and background. They often went to the Inns of Court to complete their education after University. Most of the training of lawyers took the form of moots – mock trials in which students practised and improved their skills of advocacy as well as displaying their knowledge of the law. Donne was never called to the Bar, and never earned a living as a lawyer, but rather as a secretary or personal assistant to men of substance. He lost his job and hope of promotion when he eloped with a girl of 16 to whom he was tutor. He endured many lean years, and during this time he became more and more interested in theology, and wrote several books on the subject. He attracted the attention of the king, James I, and it was through the king's influence that he was awarded a doctorate, and later was appointed Dean of St Paul's. It seems that his ordination was in part due to his ambition to rise in the world, and that he believed that the church was a better ladder up which to climb than the court. But I do not believe that this was his only motive. By the time he was ordained in January 1615, if not much earlier, he was a devout Christian.

Incidentally, you should not refer to his ordination as his "entry into the Church." I know that the word "church" is frequently used as a synonym in this context for "ordained ministry" or "priesthood," but this is quite wrong! One enters the visible church on one's baptism, and if you distinguish between the visible and the true church, a tricky distinction, but many make it, then one enters the true church, the company of believers, the people of God, at one's conversion. But on ordination one enters the ministry, or more strictly the ordained ministry.

I do not know just why Donne was appointed Preacher of the Inn. He was a member, as we know, and he had many friends and acquaintances there, and by the time of his appointment in November 1616 his sermons were well known. The duties of the Preacher were quite onerous. He was expected to preach twice every Sunday in term, and once each Sunday in the vacation (though this may have been only the Sundays immediately before the beginning and after the end of term). He had the assistance of a chaplain, who said morning and evening prayer.

Donne's wife died soon after he became Preacher, and he seems to have suffered from guilt and depression, as well as desperate grief. He was allowed to go on prolonged leave to join an ambassadorial journey to Germany, which altogether took nearly a year. If you want more information about all that, you will have to consult the biographies – there are at least three, one by Gosse, 1942, one by Bald, an American, 1986, and one more recent, which I have not seen. I have not had time to delve into them very deeply.

In Donne's time (and this may answer some of your other questions about the part played by the Chapel in the life of the Inn) it was not acceptable in a public figure such as a barrister to belong to any branch of the Christian church other than the established Church of England. So members of the Inn were expected to take Communion at least once a year. This was not so much a test of faith as of loyalty to the Crown and to the constitution. It was only a few years after the Gunpowder Plot, and there was still great fear of and hostility towards the Roman Catholic church and the Pope. Donne was himself brought up as a Roman Catholic, and at least one of his friends was executed as a traitor.

The most notable event of Donne's time as Preacher was the building of the present chapel. The previous one had become ruinous, and the present one was actually started in 1617, after much debate, and after many problems about raising the money for it. I do not think that Donne himself had a great deal to do with the design, though no doubt he approved it.

Did Lincoln's Inn and its barristers figure into any of Donne's poetry or sermons?

I have not read enough of Donne's writings to know to what extent the Inn and its members feature in them. It is commonly said that the famous remark about the tolling of the bell ("Send not to know for whom the bell tolls. It tolls for thee.") refers to the custom of tolling the bell of the chapel when a Bencher died; the bell was sounded once for each year of the man's life. The Chapel still has that one bell, which is said to have been captured from the Spanish when Drake's fleet raided Cadiz in 1598, an expedition in which I believe Donne took part.

What role does Lincoln's Inn Chapel play in the life of the Inn today? Is its work largely restricted to prescribed ceremonial functions, or is there an active ministry among the barristers or others?

The Chapel is certainly less important in the life of the Inn than it was in former times. Few people live in the Inn, and those who have flats often go elsewhere at weekends. Those members of the Inn who worship anywhere naturally do so in their own home churches. Many are of other faiths or none. However, services are held nearly every Sunday in the legal terms, and Benchers, if they are willing, put their names on a rota to attend. Those whose names are down for a particular Sunday do usually come. Many like the rather old-fashioned form of service which we offer, and are glad to take part in it as a change from the more modern, often "clap-happy," worship which is increasingly to be found throughout the churches in Britain, and which certainly appeals to many younger people. The chapel is open to the public but not many people come from outside. In this respect we differ from the Temple who have a well-known choir. Our choir is good, but not famous as theirs is. There are two occasions in the year when families are especially catered for. These are in the summer, when the service is followed by a picnic and games, and the carol service in mid-December.

The Preacher is free to hold other services as he thinks fit, and I do a little more in that respect than some of my more recent predecessors. For instance, every Wednesday there is a Bible reading in the chapel for half an hour at lunchtime, to which some 8 to 12 people come, mostly members of the Inn. Special services are held during Lent. Before the Call to the Bar, a short service of Evensong is held for any who wish to give thanks and pray as they embark on the next stage of their career and there are some who value this. Recently, lunchtime concerts have been held, four to six times a term..

The Preacher does some pastoral work in the Inn, particularly in regard to preparation for marriage and baptism and in arranging memorial services. He attends a number of dinners, especially those to which students come, and he has many opportunities for informal conversations with Benchers, barristers, and students.

In general, I would say that that the Preacher and the Chapel are valued, and that even those who seldom enter the Chapel would miss them if they were not there. I justify their existence on two main grounds: the first is that everyone needs to consider, even if they cannot answer, the great questions of life, who we are, why are we here, to whom if anyone are we responsible. What is done in the Chapel may help us to think about these questions, and to point us at least in the direction of answers. Secondly, the purpose of the profession of law is to do justice, and justice is related of course to ethics, and ethics to religion – to God and his will; and even if there is no God, to what God would want of us if he existed. So there is more to life than work and more to work than making money. The Preacher and the Chapel, simply by being there at the centre of the Inn, remind us of these truths.

How does the Chapel accommodate non-Christian barristers in its work and ministry? Also, does the Chapel's affiliation cause any tension in the Inn over religion as an institutional matter?

The Chapel and the Preacher offer what they can to all who work in the Inn, Christian or not, and members of the legal profession or not. We can do no more than that. It is true that we are Christian and Anglican, but it is necessary in worship to use some form or other, and an amalgam of different texts and prayers of different faiths would not be acceptable to anyone. When we have had a Jewish Treasurer, which has happened twice in my time as Preacher, we have adapted the inaugural service slightly so as to make it more usable by him and his family. In one case when the wife of the Treasurer was quite a strictly observant Jew, we invited a rabbi to take part in the service, and used some Jewish prayers. That particular man did not often come to chapel, though he did on a few occasions. The other Jewish Treasurer was educated at Winchester and had no problem about Morning Prayer from the Prayer Book. When he died, a rabbi assisted me at his memorial service.

I cannot forecast what might happen when we have a Moslem, Hindu or Buddhist Treasurer. However, I have been told by Moslems that they are glad that there is a chapel in the Inn, because it is right that God should be acknowledged.

There have been some signs of tension, it is true. Some Moslems have objected to the Grace at meals concluding with the words "through Jesus Christ our Lord." and have asked that these should be omitted. The Benchers have not agreed to this. I have not heard any official statement, but my impression is that they consider that no one is obliged to pray the Grace in their own minds, nor to say Amen to it, and that the Christian tradition of the Inn should be continued. It is in any case right to give thanks to God and to pray for his blessing upon "the Queen, the Church and this Honourable Society."

There have been complaints from some strict Moslem students that in the great fresco in the Hall, Mohammed is portrayed. The Under-Treasurer wrote to an Imam about this, and his reply was that in a non-Moslem country, the prohibition against the representation of human beings was not understood, and that it was right that the Prophet should be honoured as one of the great lawgivers of the world.

In day-to-day matters, is the Chapel independent, or is it instead administered by the Inn, the Church of England or some other institution?

The chapel is the private chapel of the Inn, and so is under the control of the Benchers who are the governing body of the Inn. They appoint from their number a Chapel Committee, who meet about three times a year, and to whom the Preacher reports. The Inn is entirely responsible for the financing of the Chapel and for its upkeep.

The Chapel is, however, a Church of England institution, and we may in theory use only forms of worship which are authorized by the Church, though no one objects to our devising our own memorial services, or carol services, or other services for special occasions. The Preacher must be licensed by the Bishop of London, or given his Permission to Officiate (which amounts to the same thing, but no one may now be licensed if they are over the age of 70). The Diocese of London, through its Diocesan Advisory Committee for the Care of Churches, and ultimately, if there is any dispute, through its Chancellor (the ecclesiastical judge) must approve any alteration to the building or its decorations or ornaments. Marriages can take place in the Chapel only by licence granted by the Archbishop of Canterbury, which has to be obtained in each case, and is normally granted only to members of the Inn, or the children of Benchers, or regular worshippers in the Chapel.

Turning back to your own work, how did you come to be Preacher of Lincoln's Inn?

When the office of Preacher became vacant, the Chapel Committee were reluctant to advertise as they had had so many applications on the previous occasion. (I think that to-day they would be obliged to do so by law.) They invited Benchers to suggest the names of anyone who they thought might be suitable. I am a member of the Inn, having been called to the Bar in 1950, and I did a pupillage in the Inn for a year, though I left after that, as I felt it was not I wanted to do for the rest of my life. A friend and fellow-pupil from that time suggested that I might apply for the post. I did so, and, after a trial sermon and an interview, was selected. (I believe that only two others were considered, so there was not very strong competition.) The terms are that the appointment is from year to year, and either side can give notice in June for the following January.

To those outside the English legal world, the concept of an Inn of Court can seem rather exotic. What are the barristers of Lincoln's Inn like, in your experience? Also, do you find there to be a real sense of community and camaraderie even among barristers who argue against each other in court all the time?

I suppose that an Inn of Court is rather a peculiar institution. It is something like a college, and something like a trade union, and something like a dining club, and something like a professional regulatory body, and it is also a place where barristers have their chambers (their offices) and some have apartments, and where lunch is provided every working day. It has had to adapt itself over the many centuries of its existence to changes in society and in the law and in the way the profession is organized. As there are not one but four Inns of Court, it has to work in harmony with the others, and also with a body called the Bar Council, which has been granted some of its functions. Just at present, its position is in a state of some uncertainty, as changes have already occurred, such as the permission of solicitors to plead in the higher courts, and to be made judges, and further changes are being proposed in the administration of the law.

The barristers, in my experience, are intelligent, friendly, and good company. Even those who have no interest in any religion, and never enter the Chapel are very pleasant to me, and most of them, I think, regard me and my position as part of the normal life of the Inn. There may be some, who feel that the Chapel is really unnecessary and expensive, but they do not say so to me.

There is indeed a great sense of community in the Inn, and the fact that members are often on different sides in a case makes no difference to that at all. Moreover, many members of the Inn are judges, and barristers and judges mix freely, and barristers can discuss judges' decisions with the judges themselves, though it is not proper for them to do so when a case is actually in progress. It is my strong opinion that in England the administration of justice benefits greatly from the fact that all judges are appointed from the legal profession; you have to have worked for many years as an advocate before you can be a judge.

What is it like to work around lawyers all day as a man of the cloth? A lot of folks would think it an odd mix.

My work is part time, so I do not mix with barristers all day and every day. However, I would have no problem about doing so. It used not to be possible for a barrister to be an ordained priest in the Church of England, but this is no longer so, and there are several barristers and at least two judges who are non-stipendiary priests. But there have always been strong Christians in the legal profession, the great Lords Denning and Hailsham being two examples. Both professions are concerned with justice, and even if some lawyers are not believers, they have a strong sense of duty to their clients and to their profession and to the nation, if not to God.

What have been your most remarkable experiences so far at Lincoln's Inn?

Remarkable experiences? I do not know that I can point to any very unusual ones. It is just amazing to me every time I take a service in that beautiful and awesome Chapel, and especially when there is a large congregation of quite eminent men and women, as sometimes there is, that I should be in this very privileged position and that all should be listening to me, and that I should have the duty of telling them about God and the Gospel.

But if you want an example of a slightly odd occasion, it would be a wedding which I partly conducted. The parties were West African, and belonged to a sect which had its own bishop. Strictly speaking, it was a wedding blessing, as they had already been married in a registry office. The families, however, regarded this as the actual marriage. It was exceedingly lengthy. The bishop arrived very late, when the proceedings had already lasted an hour or so, and repeated a great deal of what had already been said and done. There were many Afro-style hymns and choruses. Our choir were present at the parties' request, but found after some time that they were really redundant, and left. Crisps and sandwiches were eaten in the pews, which left a lot of mess for the verger to clear up. The Inn had been asked to provide a room for the reception, and to do the catering, but this was cancelled a few days before the event. The Inn's bills were never paid, because whoever in the family had undertaken to be responsible had backed out. In the end the bridegroom, having been given every chance to meet his debts by small instalments, none of which he had paid, was expelled from the Inn. I met him several years later, and he really could not understand, he said, why the Inn had treated him so harshly!

Such occasions are quite exceptional, and I have attended many services which have been truly inspirational and uplifting.


Canon Norman was interviewed by Peter C. Hansen.





© Peter C. Hansen, The Legal History Project.